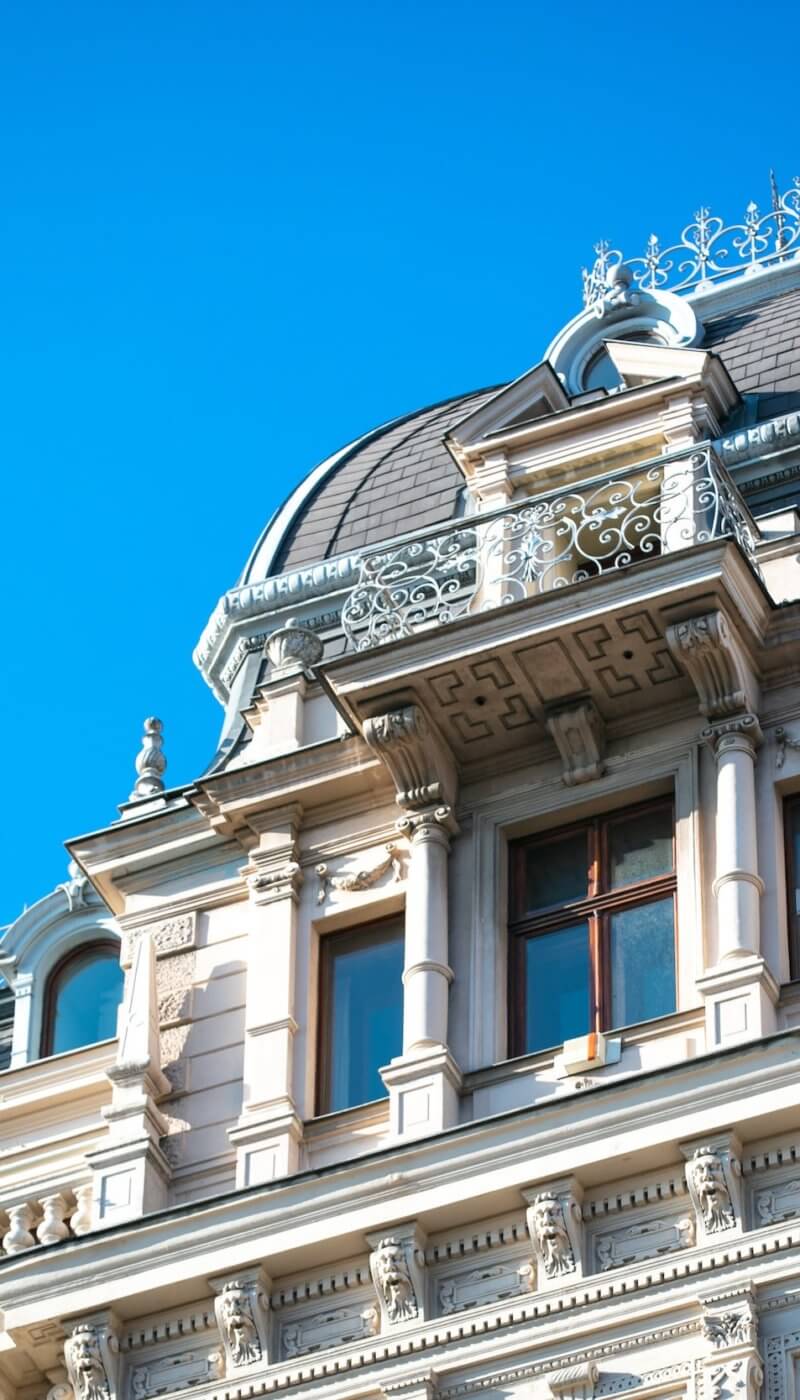 Real Estate
Real estate worth purchasing.
Many factors come into play before a real estate object is purchased: not only do we check how attractive the location is regarding frequency or tranquillity as well as infrastructure, but also the structural properties and any renovation or adaptation work that might be required. The foundation of our clear investment strategy is not only securing long-term yields, but above all to constantly increase the value of the object.
Here we present you a selection of our holdings and reference objects.
House of the European Union

"Palais Zeppezauer"

This property is not only located directly on the historic Schwarzenbergplatz, but also houses the famous eponymous Café Schwarzenberg inside. One of Vienna's most luxurious hotels, the Hotel Imperial, is part of the high-class neighbourhood. World-renowned boutiques and restaurants are within easy walking distance.

"Palais Christinenhof"

The strictly historic residential building stands out with its pilaster-structured central bay, the additive gable windows and wider aedicule windows on the sides. A commemorative plaque for the piano virtuoso and composer Alfred Grünfeld and a bronze relief by Florian Jesephu Druot from 1924 adorn the façade. The Getreidemarkt is part of the former Glacis and lies in the grid system of the Ringstraße zone between the Museum of Art and Natural History, the Museumsquartier, the Academy of Fine Arts and the Vienna Secession.
Highlights
Vienna , 1010 Schuberting 9-11

"Palais Christinenhof"

Project type:

Older Buildings

Object type:

Residential building

Vienna , 1010 Kärntner Ring 17

"Palais Zeppezauer"

Project type:

Older Buildings

Object type:

Residential building

Vienna , 1010 Wipplingerstraße 35

House of the European Union

Project type:

New building

Object type:

Office building

Vienna , 1030 Modecenterstraße 22

"TRICORE"

Project type:

New building

Object type:

Office building

Neu-Ulm, Deutschland , 89231 Borsigstraße 15

World of Living

Project type:

New building

Object type:

Industrial property

Vösendorf , 2331 Dr. Robert Firneis-Straße 8-16

OBJECT WITH POTENTIAL AS LOGICTICS OR DATA CENTRE

Project type:

Development

Object type:

Industrial property

Vienna , 1010 Schwedenplatz 2

Central residential building

Project type:

New building

Object type:

Residential building

Riegersburg , 2092 Riegersburg 1

Baroque castle Ruegers

Project type:

Older Buildings

Object type:

Residential building
Archive
Vienna , 1010 Wipplingerstraße 35

House of the European Union

Project type:

New building

Object type:

Office building

Vienna , 1010 Blumenstockgasse 5

Baroque Partician House

Project type:

Older Buildings

Object type:

Residential building

Vienna , 1010 Schmerlingplatz 2

Magnificent turn of the century building

Project type:

Older Buildings

Object type:

Residential building

Vienna , 1010 Schwedenplatz 2

Central residential building

Project type:

New building

Object type:

Residential building

Vienna , 1010 Schönlaterngasse 11

Old Jesuit Manor

Project type:

Older Buildings

Object type:

Residential building

Vienna , 1010 Kärntner Ring 17

"Palais Zeppezauer"

Project type:

Older Buildings

Object type:

Residential building

Vienna , 1010 Landesgerichtsstraße 18

TURN-OF-THE-CENTURY PROPERTY

Project type:

Older Buildings

Object type:

Residential building

Vienna , 1010 Getreidemarkt 10

TASTEFULLY RENOVATED WITH FINISHED ATTIC

Project type:

Older Buildings

Object type:

Residential building

Vienna , 1010 Getreidemarkt 16

GRÜNDERZEIT HOUSE IN PRIME LOCATION

Project type:

Older Buildings

Object type:

Residential building

Vienna , 1010 Annagasse 5

TOP FLOOR IN GREAT LOCATION

Project type:

Older Buildings

Object type:

Residential building

Vienna , 1010 Schuberting 9-11

"Palais Christinenhof"

Project type:

Older Buildings

Object type:

Residential building

Vienna , 1010 Stubenring 2

APARTMENT BUILDING JEWEL

Project type:

Older Buildings

Object type:

Residential building

Vienna , 1020 Schüttelstraße 99

Partician HOUSE

Project type:

Older Buildings

Object type:

Residential building

Vienna , 1020 Nordbahnstraße 52-54

TURN-OF-THE-CENTURY PROPERTY

Project type:

Older Buildings

Object type:

Residential building

Vienna , 1020 Ennsgasse 13

Partician HOUSE

Project type:

Older Buildings

Object type:

Residential building

Vienna , 1020 Kafkastraße 9

Partician HOUSE

Project type:

Older Buildings

Object type:

Residential building

Vienna , 1020 Rembrandtstraße 30

Partician HOUSE

Project type:

Older Buildings

Object type:

Residential building

Vienna , 1030 Traungasse 7

Partician House

Project type:

Older Buildings

Object type:

Residential building

Vienna , 1030 Modecenterstraße 22

"TRICORE"

Project type:

New building

Object type:

Office building

Vienna , 1030 Landstraße Hauptstraße 140-142

"CITY MANSION"

Project type:

Older Buildings

Object type:

Residential building