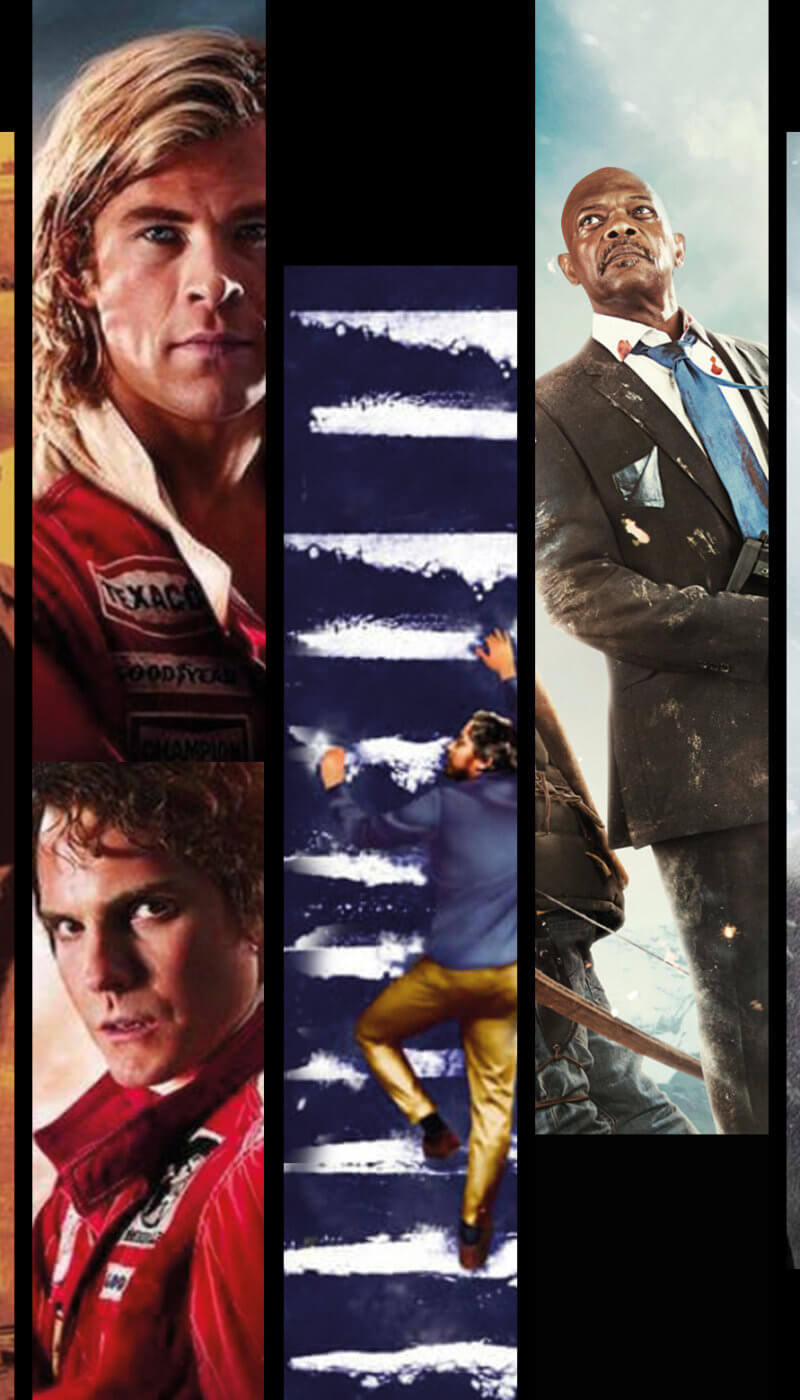 Film
Once seen, never forgotten.
Film as an art form belonging to the latest achievements.
Regardless of age or ethnic background, film has made its way into our collective consciousness as the popular form of "transport medium" since the early 1900s.
It starts with a story. For over 20 years, the group "Film House Germany" has been producing successful blockbusters with star-studded casts. Like a poet, the group manages every year to balance the right composition of story, technological applications, and casting to win film prizes and, more importantly, to fill cinemas.
Siberia

An American diamond merchant (Keanu Reaves), who travels to Russia and falls into an obsessive relationship with Katya (Ana Ularu), a Russian cafe owner, in a small Siberian town. As their passion builds, so does the treacherous world of the diamond trade.

Rush

When sex was safe and driving was dangerous. A glamourous, entertaining and insightful look at the rivalry that led to one of Formula 1's most dramatic moments, the 1976 Grand Prix racing season. The story pits sexy British playboy driver James Hunt against Niki Lauda, a fascinating Austrian perfectionist whose dedication threatened to isolate him emotionally from everything but his ambition to win a championship.

The Aspern Papers

Set in Venice in the late 19th century, "THE ASPERN PAPERS" tells the story of an ambitious editor (Meyers), who is obsessed by the romantic poet Jeffrey Aspern and his short and wildly romantic life. Travelling from the U.S. to Venice, he is determined to get his hands on the letters Aspern wrote to his lover and muse (Redgrave), who ferociously guards their secrets. Richardson plays Redgrave's niece.
Highlight movies
2018

Siberia

Darsteller(innen):

Keanu Reaves, Ana Ularu, Pasha Lychnikoff, Molly Ringwald

2013

Rush

Darsteller(innen):

Chris Hemsworth, Daniel Brühl, Olivia Wilde, Alexandra Maria Lara, Pierfrancesco Favino, Natalie Dormer

2015

Big Game

Darsteller(innen):

Samuel L. Jackson, Onni Tommila, Mehmet Kurtulus, Ray Stevensen, Jim Broadbent, Felicity Huffmann

2016

The Exception

Darsteller(innen):

Lily James, Jai Courtney, Janet McTeer and Christopher Plummer, Ben Daniels, Eddie Marsan

2010

Ein Russischer Sommer

Darsteller(innen):

Helen Mirren, James McAvoy, Christopher Plummer, Paul Giamatti, Anne-Marie Duff

2010

Carlos

Darsteller(innen):

Èdgar Ramírez, Nora von Waldstätten, Alexander Scheer, Christoph Bach, Julia Hummer, Katharina Schüttler

2013

Filth

Darsteller(innen):

James McAvoy, Jamie Bell, Eddie Marsan, Imogen Poots, Jim Broadbent, Tracy Ann Obermann

2014

Hectors Reise

Darsteller(innen):

Simon Pegg, Toni Collette, Rosamund Pike, Stellan Skarsgård, Jean Reno, Veronica Ferres, Barry Atsma, Christopher Plummer
Film-Archive
2022

Der Onkel

Darsteller(innen):

Anke Engelke, Michael Ostrowski, Simon Schwarz

2020

Endless

Darsteller(innen):

Alexandra Shipp, Nicholas Hamilton, DeRon Horton, Edie Ramos, Famke Janssen

2020

BREATHTAKING

2020

BEER-TASTIC 2 – ANOTHER ROUND!

Darsteller(innen):

Conrad Seidl

2020

Takeover – voll vertauscht

Darsteller(innen):

Roman Lochmann, Heiko Lochmann, Lisa Marie Koroll, Alexandra Neldel, Kai Wiesinger, Regie: Florian Ross

2019

The Aspern Papers

Darsteller(innen):

Jonathan Rhys Meyers, Joely Richardson, Vanessa Redgrave, Barbara Meier

2019

DEALS AND VISIONS

Darsteller(innen):

Barbara Meier, Nate Bolotin, Hank Braxtan

2019

Abikalypse

Darsteller(innen):

Reza Brojerdi, Lea van Acken, Lucas Reiber, Jerry Hoffmann, Lisa Marie Koroll, Regie: Adolfo Kolmerer

2019

Auerhaus

Darsteller(innen):

Damian Hardung, Max von der Groeben, Luna Wedler, Devrim Lingnau, Regie: Neele Leana Vollmar

2019

Dem Horizont so nah

Darsteller(innen):

Luna Wedler, Jannik Schümann, Luise Befort, Frederik Lau, Victoria Mayer, Stephan Kampwirth, Regie: Tim Trachte

2018

Siberia

Darsteller(innen):

Keanu Reaves, Ana Ularu, Pasha Lychnikoff, Molly Ringwald

2018

BEER-TASTIC! THE SERIES

Darsteller(innen):

Conrad Seidl

2018

Hot Dog

Darsteller(innen):

Til Schweiger, Matthias Schweighöfer, Tim Wilde, Samuel Finzi, Heino Ferch, Regie: Torsten Künstler

2018

Vielmachglas

Darsteller(innen):

Jella Haase, Marc Benjamin, Matthias Schweighöfer, Juliane Köhler, Uwe Ochsenknecht, Regie: Florian Ross

2018

You Are Wanted 2

Darsteller(innen):

Matthias Schweighöfer Alexandra Maria Lara Catrin Striebeck Jessica Schwarz Hannah Hoekstra Michael Landes, Regie: Matthias Schweighöfer Bernhard Jasper

2018

100 Dinge

Darsteller(innen):

Florian David Fitz, Matthias Schweighöfer, Miriam Stein, Hannelore Elsner, Maria Furtwängler, Wolfgang Stumph, Katharina Thalbach, Regie: Florian David Fitz

2017

You Are Wanted

Darsteller(innen):

Matthias Schweighöfer, Alexandra Maria Lara, Karoline Herfurth, Catrin Striebeck, Tom Beck

2016

The Exception

Darsteller(innen):

Lily James, Jai Courtney, Janet McTeer and Christopher Plummer, Ben Daniels, Eddie Marsan

2016

Deutschland, Dein Selbstportrait

2016

Der Geilste Tag

Darsteller(innen):

Matthias Schweighöfer, Florian David Fitz, Alexandra Maria Lara, Regie: Florian David Fitz